Ffynongain Gun Dogs Wales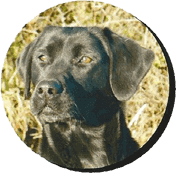 Huw first got involved in gundogs from a very young age. His Grandfather had Irish Setters and Welsh Springer Spaniels. He showed them and shot over them, and on weekends Huw would be there with him helping in the kennels and out shooting over the dogs, and that's where his love of dogs started.

The most memorable success?
Huw says, "There are so many over the last 38 years, it's hard to know where to start, but winning my first Field Trial was a great experience and basically started me off in the competition world - that was twenty seven years ago now.

Being selected for the Welsh International Team was a great honour."

Other successes over the years?
"I was delighted to win the Windsor Great Park Gundog test in 2009 with my Labrador Caullichat Rebel, being only the second Welshman ever to lift the trophy !

I was also a member of the Welsh International Team that won the Retriever World Cup, and I was extremely pleased to have come second in the Individual score table. I missed out on winning the event outright by one point!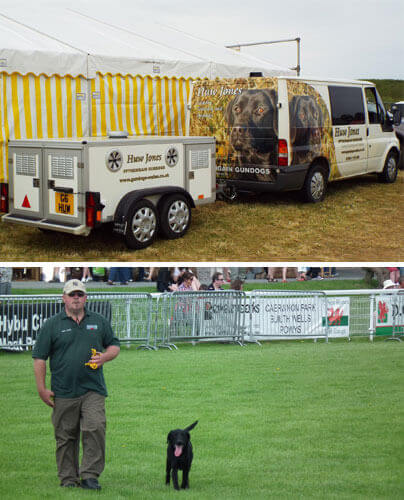 I have now been a member of the Wales gundog team for well over 17 years.

Over the years I have been lucky enough to have had great success with several dogs that I have bred, with four Field Trial Champions and over fifteen Field Trial Winners, and hopefully this will carry on."
First Welsh man to be asked to Captain the Great Britain Retriever Gundog team, Wales International Gundog team Captain/Manager, BASC Gundog, advisor for Wales, Gundog Trainer of the Year 2016/2017, just to name a couple.

And Huw is involved in much more…..
Picking-up on large commercial shoots
Training Police search dogs
Running gundog training groups
Organising Gundog Working Tests
Running training groups for the KC Canine Good Citizen Scheme


Listed below are just a few of the successful outcomes for Gundogs that I (Huw Jones) have competed with and bred, all are either Field Trial Champions, Field Trial Winners or Award Winners
| | |
| --- | --- |
| FTW Castlerhyd Gallion | Multi Field Trial Winner ( Handled by Huw Jones) |
| FTW Ebony Lad Bruce | Field Trial Winner (Handled by Huw Jones) |
| FTW Merlinshill Lad | Field Trial Winner (Handled by Huw Jones) |
| FTW Stowyloft Ben of Ffynongain | Welsh International Gundog Team Member 2004 (Handled by Huw Jones) |
| FTW Greenbriar Viva of Ffynongain | Welsh International Gundog Team Menber 2004/05/06, Field Trial Winner and Multi Field Trial Award Winner in both Open & Novice Trials (Handled by Huw Jones) |
| FTW Caulliechat Rebel of Garngoch at Ffynongain | Welsh International Gundog Team Member 2007/08/09/11, Field Trial Winner & Multi Field Trial Winner in both Open & Novice Trials (Handled by Huw Jones) |
| FTCH Ffynongain Lincoln | Belgian FTCH at 2 years, a great achievement also ran at the Belgian Championship Multi Field Trial. Award Winner in Open & Novice Trials. |
| FTCH Ffynongain Graphic | Irish Field Trial Champion, Qualified 3 times for the Irish Championship and a Multi Field Trial Award Winner |
| FTW Ffynongain Ben | Field Trial Winner, Competing out of France. Top Retriever Euro Challenge CLA Game fair 2010 |
| FTW Ffynongain Gitto | Field Trial Winner and Multi Field Trial Award Winner |
| FTW Ffynongain Owen | Field Trial Winner at only 20 months old (Handled by Huw Jones) |
| FTW Lavenghyl Rising Star of Ffynongain | Multi Field Trial Award Winner at 17 months old (Handled by Huw Jones) |
| FTCH Ffynongain Gunner | Danish Elite Champion 2010 an outstanding achievement for this well bred dog |
| FTW Ffynongain Jigsaw | Field Trial Winner an excellent achievement for this young well bred dog |
| FTW Ffynongain Jackson | American Field Trial Winner and Multi Field Trial Award This is the 1st Dog I have bred that has competed in the USA, which makes it very special |
| FTW Ffynongain Lizzy | Field Trial Winner and Multi Field trial Award Winner, Lizzy is an excellent all round bitch and congratulations to Steve on his first field trial win |
| FTCH Ffynongain Razor | Irish Field Trial Champion. This is an amazing achievement for this very young Dog who ran at he Irish Championship 2012 |
| FTW Ffynongain Jigsaw | Open Field Trial Winner This Dog is just one win from being my first GB Champion. I really hope he makes it next year. He also ran at the IGL Championship in 2012 |
| FTW Ffynongain Quest | Feild Trial Winner Quest has all the style and pace to make it all the way to Field Trial Champion, so I'll keep my fingers crossed |
| FTW Ffynongain Ribble | Field Trial Winner For one so young, Ribble has done well this year, he picked up a couple of awards on the way to his first win. Ribble is the full Litter Brother of Ffynongain Razor |
| FTW Ffynongain Morris | Multi Field Trial Award Winner. Morris is a big, powerful dog, he has all the qualities of his SIRE and DAM and is a very consistent dog |
| FTW Ffynongain Usher | Wales International Gundog Team Member 2014, this is a massive acheivementfor this young Dog. Sired by FTW Ffynongain Owen X Ffynongain Greenbriar Media of Ffynongain. |
| FTW Ffynongain Orian | Field Trial Winner. This is a very good hunting Bitch, she takes some holding but is a pleasure to work. I must thank Steve for running 2 Ffynongain Bitches in his Kennels and winning with both. |
| FTW FFynongain Tank | Tank has had a fantastic year qualifying to the Retriever Championship in his first season a massive achievement for this young dog that hopefully will be made up to FTCH this year. |
| FTW FFynongain Willie | Willie has taken his time to mature but he always showed he had what was needed to make it in the field trialling world he is sired by FTCH Danish Championship Winner and GB FTCH FFynongain Gunner. |
| FTAW FFynongain Zack | Zack is a very young dog that at under 2 years of age is already showing his quality in the shooting field and working gundog tests he is sired by FTCH FFynongain Razor. |
| FTW FFynongain Celt | Celt is following in his fathers FTCH FFynongain Razor foot steps by qualifying for the Irish championship at 2 years of age and in fact doing a little bit better by also qualifying for the British championship also at this very young age, hopefully he will be the third Irish FTCH |
| FTW FFynongain Buzzard | Buzzard is an outstanding young dog that is already running in Open field trials at just 2 years of age, he is already having a reputation for being a very good game finder as you would expect from a FFynongain bred dog |